COELS Cultural Supports and Services
COELS is an Indigenous organization that provides many cultural supports and services. Indigenous ways of learning, including many diverse nations are represented within COELS. Elders, ceremonies, traditional protocols, and ceremonies are an integral part of our work. 
Brothers and Sisters are encouraged to take part in those that they feel comfortable. We realize that many of us are unique in our beliefs, and we respect where people are at, carrying out our work with respect. This section will highlight and describe some of our cultural supports and services.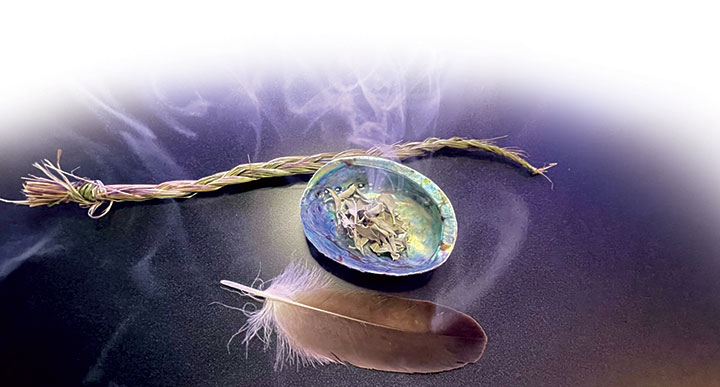 Medicines
Sweetgrass, sage, cedar and tobacco are the main medicines. These medicines are used in ceremony in many ways. It is important to treat these medicines with respect and in a sacred manner. Sweetgrass and Sage are used to purify oneself and area, to take away any negative thoughts and to clear the energies. Just as our bodies require nutrition, our spirits need to be cleaned and fed as well. Sweetgrass and Sage are available for your use, and we strongly encourage you to utilize them in your daily life. We have medicines available, please check with staff if you would like some for your personal use.
Tobacco is one of the main medicines and originally it was used much differently. When approaching an Elder or a healer, we are encouraged to offer them tobacco. Tobacco is always part of ceremony, and some believe that it is one of the main medicines. 
Pipe Ceremonies
There are many different Pipe Ceremonies but one of the ways that Elders and Staff working within COELS use is in ceremony whenever the need arises. There are many different protocols, and each Pipe Carrier has their own approach in the ways that they were taught. The Pipe is a sacred instrument that is used in prayer. 
Sweat Lodge Ceremonies
There is a Sweat Lodge that is located at Anderson Lodge. The Sweat Lodge is one of the ways in which we purify our mind, body, and spirit. You are encouraged to bring tobacco and broad cloth to the Elder. You may ask the Elder for specific prayers or you may pray those prayers yourself between you and the Creator and the Grandfathers, and Grandmothers. 
Spirit Baths
The West Coast peoples utilize the Spirit Baths with the same intent of purifying the body, mind, and spirit. Brothers and Sisters may ask to go do a Spirit Bath and COELS will assist in this process. 
West Coast Night and Pow Wow nights
There are many other cultural events that are not part of COELS, but Brothers and Sisters are strongly encouraged to seek out cultural activities and events. Powwow night is every Tuesday, and West Coast Nights are held every Wednesday.